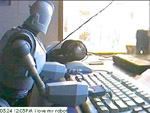 Meg got the robot, and already has put it to work! Lucky it's a friendly robot, or it could open fire on her… (And now Matt wants in on the action, which rules.)
Yep, I'm here today — I had to go over to my parents to try to resurrect an old computer, but a serial mouse was my foil, so I slinked home defeated. Time to shower and surf the web.
There's part of me that's saddened that someone who kills another person by driving drunk may only spend four years of their life in prison. This guys was ripped — 0.19 was his BAC — and he was driving the wrong way on a divided highway.
For some reason, I find it really funny how Dubya had to try to cobble together a bullshit story when he was caught in a blatant lie about Gore and the stock market.
Oh, wow: a pill-sized camera, designed to be swallowed by patients. It takes pictures on its way down and while it's in the stomach, and transmits them back to a receiver worn on the patient's belt. This is friggin' coooool.
The third round of Neale's Blog-Off is underway, with Tracy pitted against James over hootch.
The New York Police Department is trying to cut down on the number of X-rated movies watched in precinct houses, and the time spend reading nudie mags in squad cars. Hmmmm…. seems like a good call, no?