For the past eight months, I've been jonesing to replace the door to my study with a french door that will let the light from the front of the house through to the hallway and the rest of our apartment. I wasn't anxious to do everything that that entailed, though — chiseling out hinge mounts, drilling doorknob holes, and aligning all the mechanical workings wasn't something that I thought I could handle. After succeeding at replacing a few mortise-type doorknobs in other doors last weekend, though, I started to think that this weekend was the time to try starting the Great Door Replacement Project, and in the aisles of Home Depot yesterday morning, Shannon reassured me that I could pull it off.
We bought the door, and this morning I trimmed it down to the dimensions of the frame. I then learned that the frame isn't exactly square — houses built in 1900 seem to settle a bit, leaving angles that are a bit off of right. After that, I picked up the small fact that my 7.2 volt cordless drill isn't powerful enough to bore the doorknob hole through 1-3/4 inches of solid pine. And last (but not least), I learned that a standard doorknob hole is slightly too big for the decorative knobs that we bought to match the rest of the hardware in our apartment. But in the end, I managed to get the door sized to the frame, and get it all hung and aligned.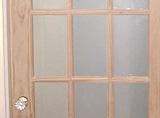 Next week, we'll prime and paint it, and then get all the plastic off of the windows; I can hardly wait to see it all finished!