We're in the home stretch of the wedding prep, so I wanted to make the first of what will (hopefully) be a series of posts about my experience with the vendors we've worked with for various parts of the planning. Today's subject: getting silk-screened T-shirts made in a hurry.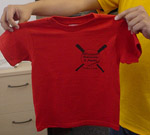 First, a preface: my brother got married a little over a year ago, and his wife's family did something we loved — they hosted a brunch the morning after the wedding, and incorporated a softball game into the morning that was a ton of fun. The game pitted family against family, and they had T-shirts made up for each side, allowing everyone to change out of their nicer shirts so that they could go out and play without worrying. Shannon and her mother specifically liked that idea, so we decided to do the same. Of course, with everything else that needed to be planned, the T-shirts fell down on the list a little bit, leaving us two weeks ago with the realization that we hadn't done anything about them.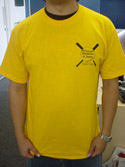 Needing the shirts on such a short timeline, we thought about just finding someone in South Jersey, but also did a little bit of research on the web. It wasn't long until I found the site of T-Shirt Pros (also known as David K's T-Shirt Printing), and I really liked what I saw. The prices were extremely competitive with everything else I saw, I was able to generate real-time quotes (a surprisingly rare thing in the web-based custom clothing world), and the entire process could be completed online. After talking to them on the phone (just to assure myself that they'd actually be able to complete and ship the order on time), I designed a quick one-color graphic in Illustrator and submitted our order; about two or three hours later, I had a final quote in my inbox, and a link to click to approve the order. Then, a few days later, I got an email asking for me to verify that I'd be available to complete a press check the next afternoon, and when that time came, I got another email directing me to a web page with pictures of the first few shirts off the presses. (My favorite thing is that one of the pictures was of an employee actually wearing the shirt, and then another was of the employee holding up a child-sized shirt.) I approved those, and then 24 hours later, I had a shipping confirmation complete with tracking information. Like I said, it was an easy process from soup to nuts, and I felt like every time something could potentially go wrong I was included in the process to approve how things looked.
In terms of negatives, I only have one: the company's website doesn't allow people using Safari on a Mac to upload images, so I had to back out of my order and use Firefox. It's a minor quibble, but trying to upload images using Safari didn't generate any obvious error (other than the image just not appearing in the right place on the page), so it wasn't even clear to me what the problem was until I tried putting my order in using another browser. Other than that, though, I was very happy with using T-Shirts Pros for our order, and wouldn't hesitate to recommend them to friends and readers.
(Now, if we could only get the weather forecast to stop saying that it's going to rain the entire day of the brunch!)