Since moving to Washington, DC, Shannon and I have been trying to be much better about cooking dinner for ourselves as often as possible, and putting some time aside early in the weekend to plan the coming week's worth of dinners (mostly so we can make a grocery list and go to Eastern Market to grab everything we need!). Last weekend, while paging through a few of my favorite cookbooks looking for new things to try, I decided that it was as good a time as any to learn how to make pizza, so we added all the various ingredients to our list and penciled it into our dinner plans for mid-week. (Well, we grabbed almost everything; I also ordered a pizza stone online, since I love my pizza crusts crispy.) After finishing up as the attending on the pediatric oncology service on Wednesday morning, I made my very first pizza Thursday evening, and I'm pleased to report that it wasn't bad at all!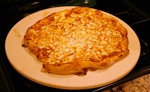 I made my pizza dough using the basic recipe from The Silver Spoon, and I used Rebecca Blood's no-cook pizza sauce as a base for my sauce and diced-up fresh mozzarella cheese from the dairy counter at Eastern Market as the only topping on the pizza. All in all, I was pretty happy with how everything turned out (well, except for a near-disaster that made clear to me how important it is that I get myself a pizza peel!) — but my happiness faded a bit once I read through Jeff Varasano's treatise on his years of trying to reproduce the perfect Patsy's pizza. (That link appears to be the most popular thing on the internet right now, resulting in Jeff taking the content down; it's mirrored by the good folks at SliceNY, though.)
After reading Jeff's observations, I can see about a thousand ways to work on my pizza technique and results. For one, it's clear that I can put a lot more care and attention into my pizza dough, something that actually sounds like fun to me. Likewise, using authentic sourdough yeast cultures looks like it can improve the taste of a pizza crust about a millionfold, so it's time to start getting an understanding about how someone like me (who only intends to make the occasional pizza here and there) might be able to use them without it becoming a huge pain in the butt. And finally (since I have absolutely no intention of hacking my oven and using the cleaning cycle to cook pizzas at 800 degrees!), I need to play around with doughmaking enough to understand which parts of Jeff's recommendations are specific to high-temperature baking, and which parts play an important role even at the more pedestrian temperatures that home ovens achieve. In any event, I can feel a bit of a pizza obsession creeping into my being… here's hoping for many happy returns on that obsession.