On our way back from dropping my parents off at Union Station, Shannon and I noticed that Independence Avenue was closed off by a police car about a block from our house, and there were a bunch more emergency vehicles a bit past the blockade. Being the nosy people we are, we parked our car and wandered over to take a look; when we got there, this is what we found: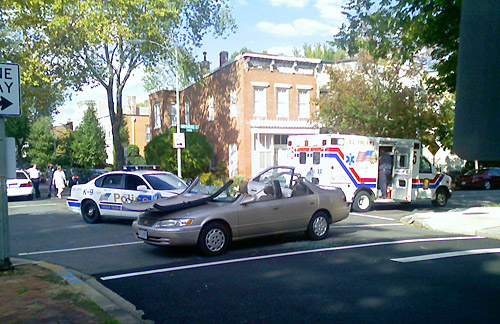 (Rather than a District police car, that car actually belongs to the U.S. Capitol Police, and is a K9 unit at that.) Chatting with one of the officers, we found out that the gold Camry drove through a stop sign, at which point its right side became intimately familiar with the front end of the Captiol Police car. They cut the top and doors off of the Camry because it was the only way to get the passenger, an elderly woman with pre-existing hip problems, safely out of the car.
The best part of the whole thing was that while we were standing there, a guy in a Mercedes drove up and actually honked at the police to tell them that he wanted to drive through the accident scene. The two officers we were chatting with told us that that happens pretty much every time they work a scene; they've even had people ask to drive through firetruck barricades at active fires. People are truly stupid.