This morning, I took a look at my mail server logs to see if yesterday's changes had caused any unexpected issues, and I'm happy to say that all appears well. I also took a few minutes to analyze the logs a little bit, and here's what the past 20 hours has brought: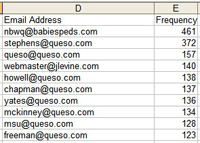 In 1,202 minutes, 16,605 messages were attempted to be delivered to nonexistent accounts on my server, for a rate of one message every four and a half seconds.
Those 16,605 messages were addressed to 915 unique (and still nonexistent!) email addresses.
By far, the queso.com address bore the brunt of this, with 759 of the addresses living there; no other domain had more than 60 or 70 false attempts.
The most popular fake email address is one that's never existed, and doesn't make much sense at all; it received 461 attempts. (The top 10 list is in the graphic to the right.)
As you'd expect, generic "webmaster" email addresses are popular, accounting for 225 of the attempts across all the domains I host; "postmaster" and "mail" are a lot less popular than you'd think.
All in all, I'm glad to have made the configuration change, and my mail server seems to be operating under quite a bit less load as a result.