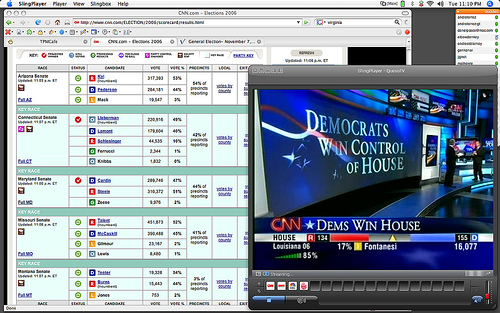 What a terrific — and late — night last night was; until around 1 AM, Shannon and I sat firmly planted in front of the TV (tuned variously to CNN, NBC, and Comedy Central) and a laptop streaming a muted CNN via the SlingBox. I don't hesitate at all to say that I'm excited about the returns, but in all honesty, I'm still trying to figure out the meaning of the Democratic House wave last night, and holding out on any Senate celebration until the results from Virginia and Montana are finalized. (But with 99.88% of the Virginia precincts reporting, Jim Webb's unofficial lead is 7,132 votes, a number that's four or five times higher than Bush's end-of-the-count lead in Florida in 2000; in Montana, Jon Tester's lead is a hair over 3,000.) By all reports, all the Virginia numbers that are being reported out so far do include all absentee voting; the only counting that's left are the remaining boxes in three counties and some of the provisional ballots.
For those who (like me) were looking for raw explanations of the recount rules and processes in Virginia and Montana, a good starting point is this post over at TPM Cafe's Election Central. A more fleshed-out version is that Virginia pays for a recount for a result in which the difference is less than 0.5% (there's almost no way for this not to occur at this point), but the recount can't even be requested until the election results are certified, something that won't occur until the very end of November. In Montana, the state only pays for a recount if the margin is within 0.25%, and they'll allow a candidate-financed recount if the margin is less than 0.5%. It looks, from the certified numbers and the votes that are still outstanding, that Montana's final tally will finish either just within the 0.5% window or slightly higher than that, so we'll see about that as well. And as I've read in about a dozen places today, the kicker to this all will be watching how the various players try to manipulate any recounts, and what comes of the investigations into election fraud that have already begun in Virginia.
Again, an exciting night, but the sobering reality is that it's merely step one of a many-step process to right this ship, and there's a lot the Democrats can do to screw this all up if they don't start listening to the wiser voices within the party.