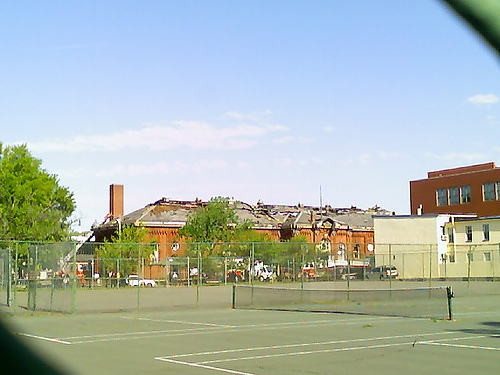 It's a very, very depressing day here on Capitol Hill, because last night, Eastern Market suffered a devastating fire that appears to have pretty much gutted the 134 year-old building. The Market has been operating continuously since 1873, and housed a dozen stands selling everything from fresh produce to meats and cheeses; for most people in the neighborhood, including Shannon and me, it's the primary place for getting groceries and weekly staples. As of now, firefighters think that the blaze started in a dumpster behind the Market building, but don't know anything more than that.
Mayor Fenty and Congresswoman Eleanor Holmes Norton (who also shops there nearly every weekend) have already vowed to rebuild and restore the Market, but it's unclear how quickly they'll be able to get that done, and what the vendors (most of whom depend on daily operation to stay afloat) will do in the mean time. Over the past year, Shannon and I have gotten to know most every one of the people who work there; I feel horrible for what they all must have felt as they got to work this morning and saw the building surrounded by firefighters who were still battling the smoldering blaze. Tommy Wells, the DC Council member for Capitol Hill, has specifially thrown his weight behind immediate plans to help the vendors survive the interim period; his weblog post also seems to intimate that there was serious structural damage to the South Hall, meaning that there will have to be more than just rehab work before it'll be able to open back up for business.
Wow, this is just awful.