Can anyone give me a single reason why so many websites ask users, when making a purchase or creating an account, to type their email addresses into the form twice?

Is there anything inherently more secure, reliable, or useful in forcing users to type the same thing over again?

I fully understand why most forms ask for a password twice; when a users can't see what they're typing (because most password fields obscure any input behind little dots or asterisks), then a good way to increase the likelihood that they type what they intend to type is to have them to type it twice.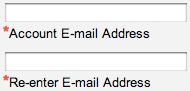 But when email addresses are displayed right there for users to proofread as they type them, it's incredibly annoying to have to pointlessly type them in a second time. Hell, the forms might as well ask you to type your name in twice, too.

(Second pet peeve: why do websites offer a "reset my password" function that fails to start the process off with email that makes the user confirm that they want their password reset? It's amazingly shortsighted; it lets people who want to mess with others just reset their passwords at will.)