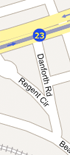 Wow — I never realized that Google uses different sources for the maps it displays on its own Google Maps app and the ones it serves to developers who use the Google Maps API.
Looking around for a Google Maps mashup of the 2006 Boston Marathon route, I found this little application over at Running Ahead. I meandered my way to the intersection at which I usually plant myself to watch the runners go by, but I realized that the Running Ahead application didn't allow me to bookmark that specific view so I headed over to the normal Google Maps site to find the intersection and bookmark it. Imagine my surprise, then, when I zoomed in and noticed that there was an entire street missing — Danforth Road was present on the Running Ahead map, but just wasn't there on the map being served up on the "regular" Google Maps site. Looking more closely at the two maps, I noticed that the one at Running Ahead had a copyright notice for Tele Atlas, and the one at Google Maps was copyright NAVTEQ; noticing that Danforth Road is also missing on the NAVTEQ-based Yahoo Maps beta, I figure the source of the map data is what explains the difference.
Apparently, the differences aren't just limited to the roads on the maps; the NAVTEQ sources provide satellite imagery at a higher resolution than Tele Atlas, meaning that Google Maps can zoom in closer than anything that's user-generated via the API. I'm sure there are other differences, as well; now, I know enough to pay attention and find them!